Much has been made of the oil trade this year, and we have seen other commodities swing wildly, but higher. It continues to be a strong zone for swing traders to outperform. Some of the tech names have been rocking it to the upside too. It's not a one-trick-pony type of market; there are opportunities out there and, right now, the trend is higher. The $SPX is up 6.5% since the start of this chart, but is up 7.5% from one month ago. It has been a fast-moving ride to the upper side. The indexes are performing very well and unrestrictedness has been wide and positive.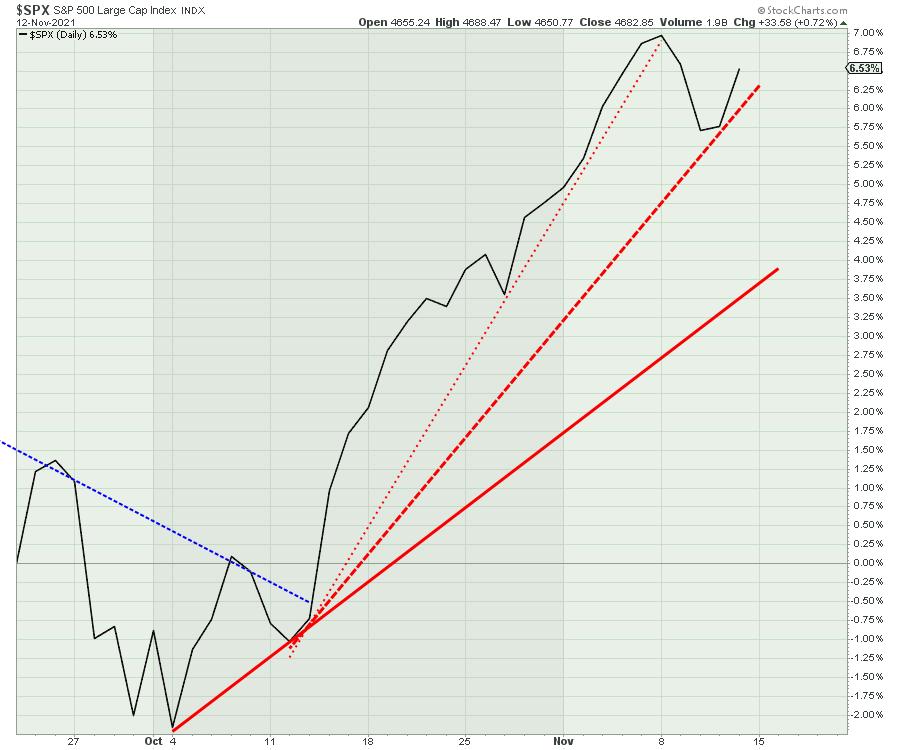 I squint at the steep uptrend line and it has been one for the record books; 9.5% in a month from October 4 to November 5. The second trend line is still very steep; it represents a fast-moving market with a wiggle this week. Using the October 4th low and the October 11th row to generate the solid red line, it would still be a mythological monthly proceeds of 5%.
Crude oil, with the last three months shown below, has been a strong move higher, but it has rolled over in recent weeks. The percentage proceeds is still huge, but the orchestration is relaxing a bit currently.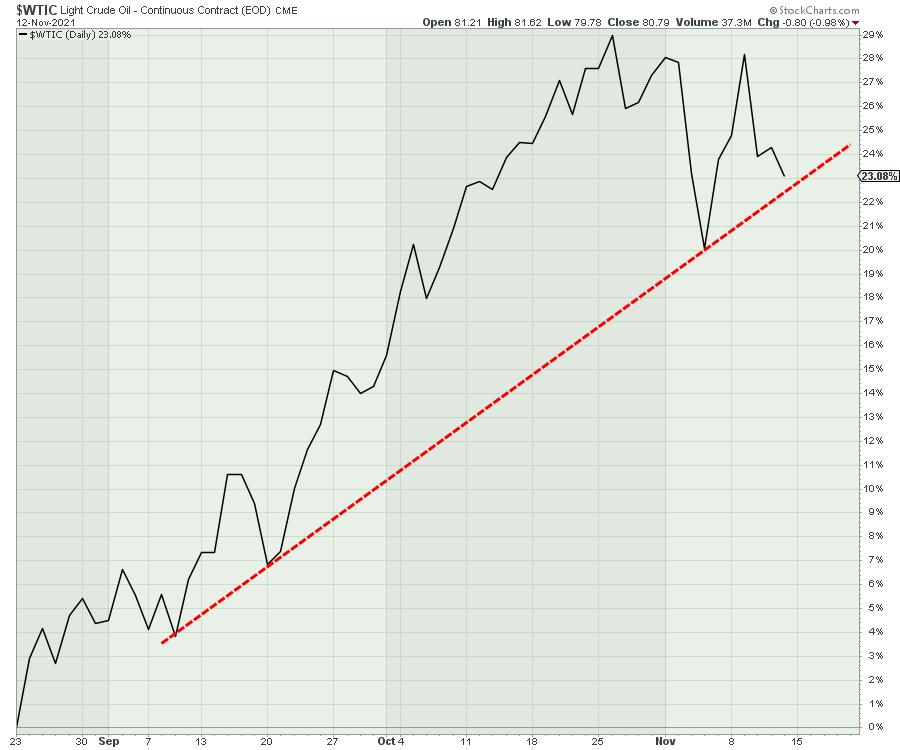 Natural Gas has moreover waned a bit. The seasonally strong period for natural gas is ending and it is not surprising to see it unwind a little. With the low level of supply pressures on Europe and Asia for Natural Gas, LNG tankers will be taking all the Natural Gas they can to move this virtually the world where prices are much higher. But the orchestration is still topping out for now.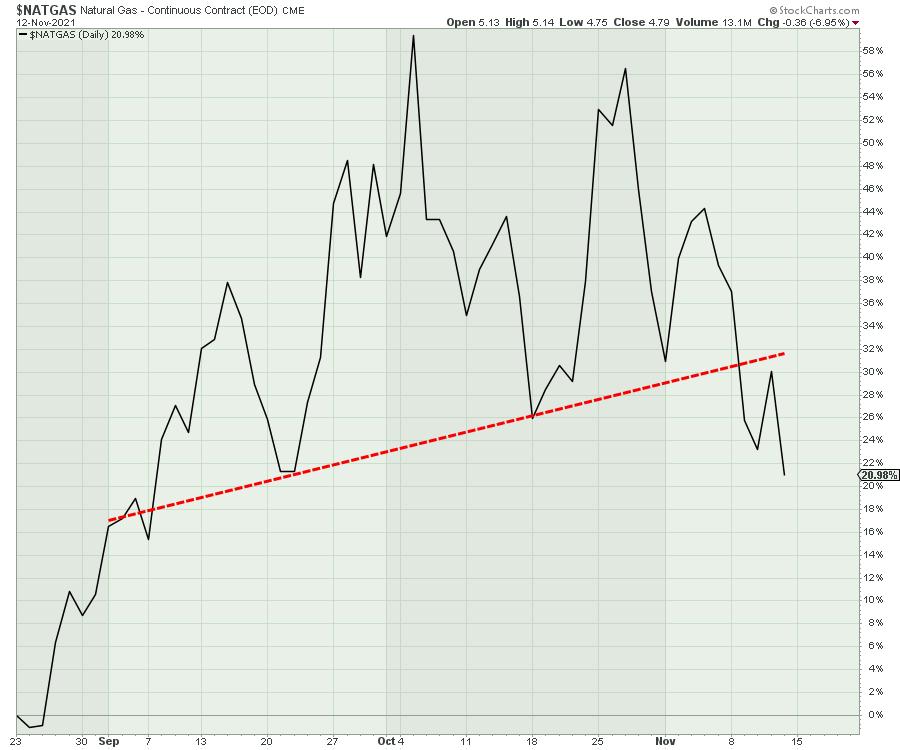 Copper has been correcting since May and started to move higher in October with other commodities. The next few weeks should tell us if this rally continues to push to the upside meaningfully or if it can't hold this rally and it breaks lanugo here. The copper orchestration has definitely been a increasingly difficult orchestration to trade.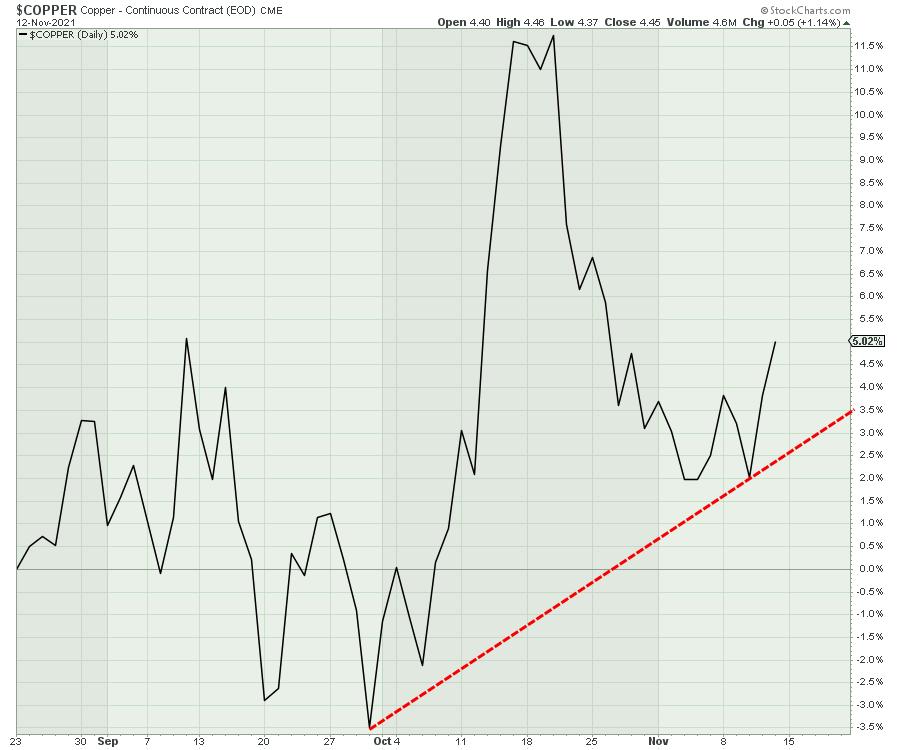 One of the worthier commodity-related opportunities would towards to be in agricultural commodities. The easiest way to see that zone is through the DBA ETF, which started to rally in September.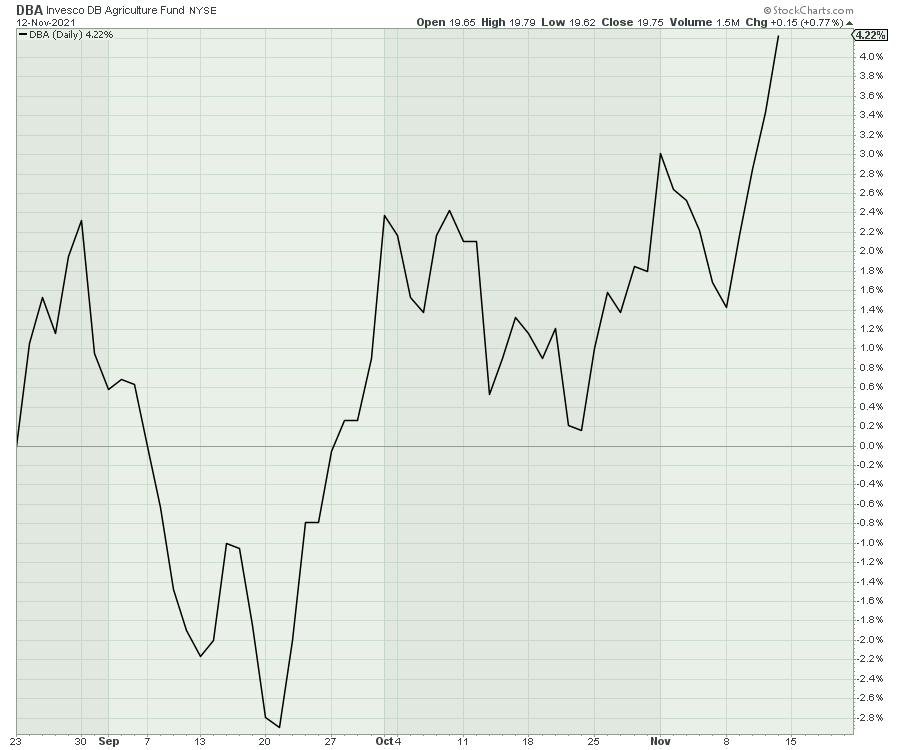 Most of you will have been alerted to the moves in Gold and Silver this week. The gold orchestration is unmistakably progressive higher, now 6 weeks off the low. Gold made a nice wipe breakout this week.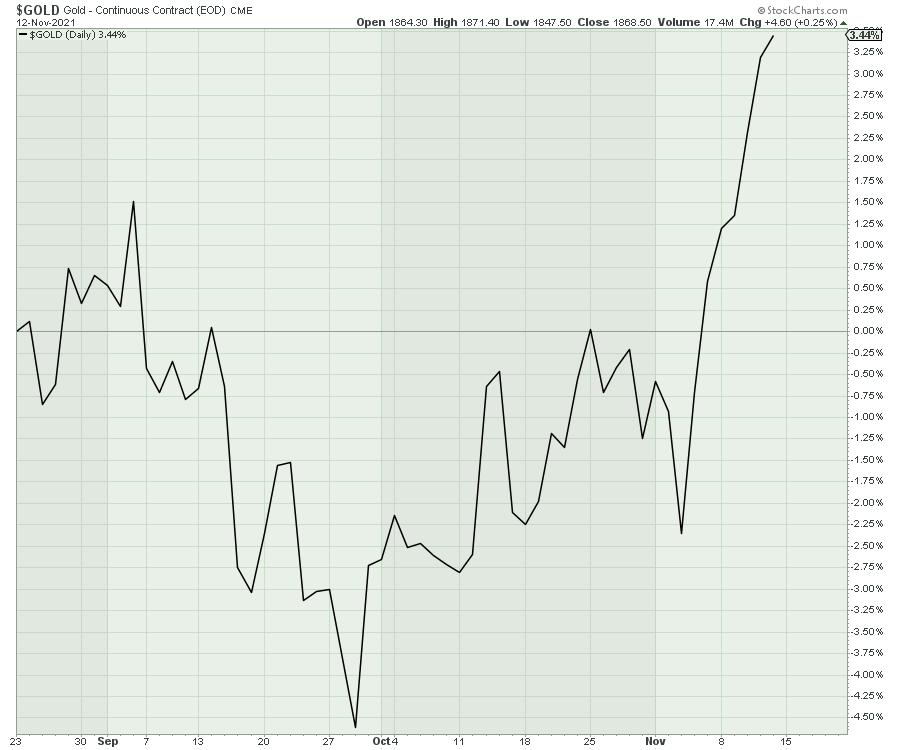 Silver shimmered as well and it has been rallying for 6 weeks.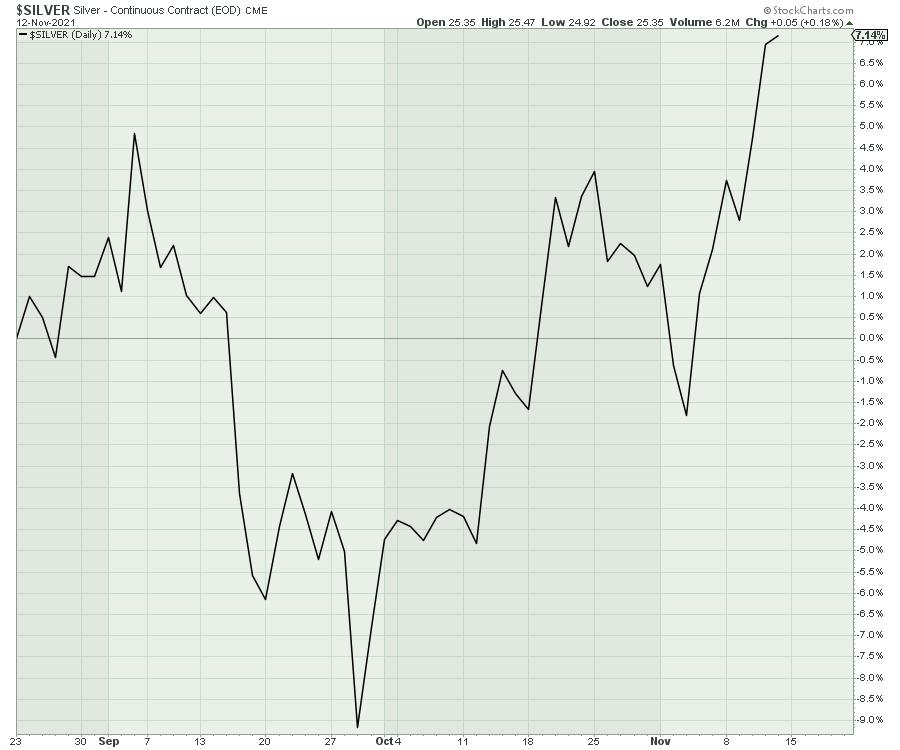 So there appears to be a waffly of the oversee right now. The wild outperformance of Natural Gas and Crude Oil seems to be waffly to agriculture, gold and silver. I am trying to stay with what is working. We'll need increasingly information from the copper orchestration to see if it is going to pension moving higher with the precious metals charts.
Head on over to GregSchnell.com/explore to find increasingly trading ideas and join our polity there.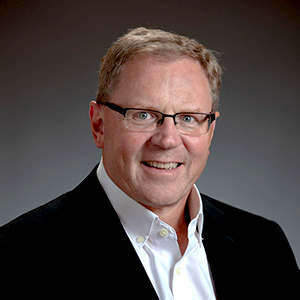 About the author:
Greg Schnell
, CMT, is a Senior Technical Analyst at StockCharts.com specializing in intermarket and commodities analysis. He is moreover the co-author of
Stock Charts For Dummies
(Wiley, 2018). Based in Calgary, Greg is a workbench member of the Canadian Society of Technical Analysts (CSTA) and the chairman of the CSTA Calgary chapter. He is an zippy member of both the CMT Association and the International Federation of Technical Analysts (IFTA).
Subscribe to
ChartWatchers

to be notified whenever a new post is widow to this blog!